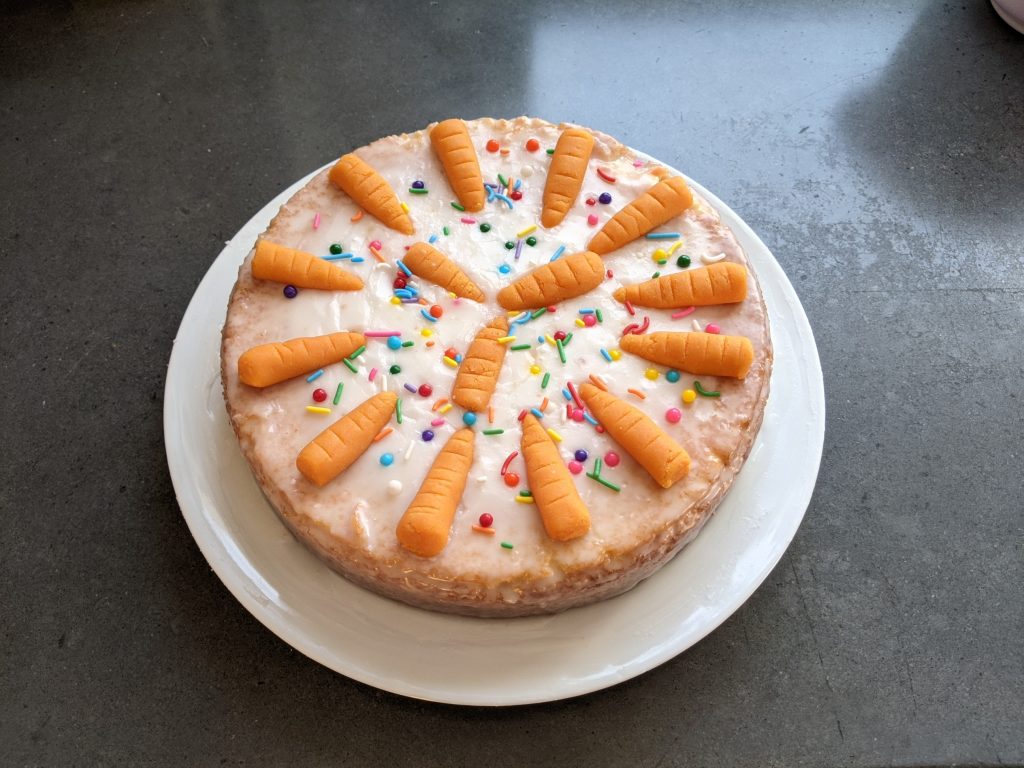 Make the cake the day before eating it.
Mix together:
300g sugar
5 egg yolks (mix sugar and yolks first)
300g almond meal/flour
300g ground carrots
50g flour
1 tsp baking powder
Zest from 1 lemon
Juice from 1 lemon (reserve 2 tbsp for icing)
2 tbsp Kirsch
Separately, beat the egg whites (x5) with a pinch of salt and carefully fold them into the rest of the batter.
Pour into buttered springform, bake for 1 hour at 350F.
Cool for 5 min, release spring form, cool completely before icing.
Flip cake upside down to remove spring form base. Depending on how pretty the cake is, you can leave it upside down, since the base is nice and flat!
Icing:
300g powdered sugar
2 tbsp lemon juice
2 tbsp water
Marzipan carrots:
Make the carrots the day before the cake.
200g powdered sugar
200g finely ground almond flour
2 tbsp egg white (1 egg white)
2 tsp pure almond extract
~60 drops of yellow + ~6 drops of red food colouring
This make way more than you need. Mix all the wet ingredients together (including food colouring!!!) before mixing into the dry ingredients. It takes a fair bit of kneading to get it mixed uniformly.